Etui meets Abstract Animal at Sabotage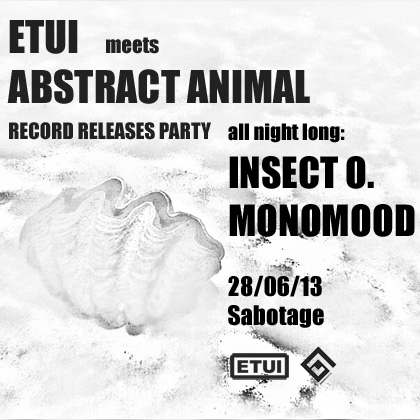 Before we start into the summer holidays we celebrate with you the release of 2 new records.
Insect O.'s "Bondi Dub" was released in June. This time the label founder takes us on a musicaly trip across down under from the colored sands of Rainbow Beach to Sydney's famouse Bondi Beach. This is music for dancing in the sand or just watch the sunset.
Monomood founded his own Abstracht Animal imprint for some proper techno. This first single "share some light" includes a big remix from Grounded Theory boss Henning Baer who played at our last Etui Session in December.
ETUI meets ABSTRACT ANIMAL
all night long:
Insect O.
Monomood
Friday, June 28th 2013 / 11:00 pm
Sabotage Dresden, Bautzener Str. 75 , 01099  Dresden