Deepmix Session at Sabotage Dresden on Oct 25th 2013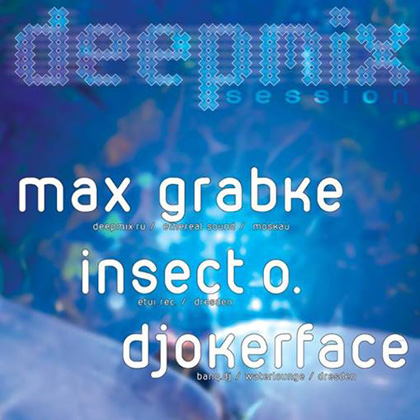 As a native of Dresden, Max Grabke moved to Russia at the age of 12. Since 1997 he has been living in Moscow and got involved into culture of sun rhythm, was working with dub-poetry project "Riddimkillers". At the same time Max participated in the creation of the legendary graffiti alliance "ZACHEM", active to this day, which fundamentally influenced the further development of street art in Moscow. With the advent of the 2000 Max was affected by electronic virus and has started his career as a DJ.
Love for minimalistic vibrations and deeply tales inevitably lead him to a passion for deep dub techno mixture. As a result Max has created his own innovative style in the quality of electronic journies. Since 2004 Max became a resident in the fabulous club of Moscow "Mix". At the same time he cooperated with "Deepmix Radio" recording his first unique sets at "OBO&HOBOS" studio. Then Max revealed his sets on Anton Kubikov (SCSI-9) parties "Techvergi" at "Phlegmatic dog" club, got residency in the club "Shanti", where later with dj Helga had perfomed a series of parties called "Minimal for a lonley men", delighted the Moscow audience and brought a new wave of minimalistic artist's sound like Frivolous, Ark, Someone Else, Lump, Barbara Preisinger e.t.c.
Deepmix Session
djs:
Max Grabke (Deepmix Moscow)
Insect O. (Etui Records, Dresden)
Djokerface (Waterlounge, Dresden)
date:
October 25th 2013
doors open from 11.00 pm – 6.00 am
venue:
Sabotage Dresden
Bautzener Str. 75
01099 Dresden – Germany
more information:
Deepmix Moscow Radio
Max Grabke on facebook
Deepmix Session facebook event